Corporate and Community

Singing Workshops
Singing workshops can be stimulating and re
freshing, and I offer these for schools, businesses and community groups. The sessions – which can last from 45 minutes to two hours – are meant to be informal and fun, and will explore a range of vocal techniques, unison singing and part-singing.
Settings for singing workshops may include:
Children in schools
Lunchtime workshops for businesses
Church and other community settings
Do contact me to discuss your requirements.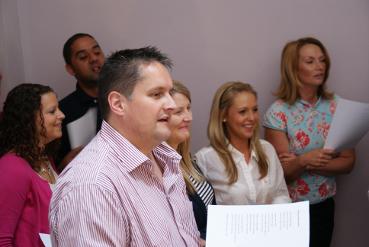 Testimonial from Unilever
"Thank you for creating a very enjoyable, motivating and structured workshop. It was brilliant and so much fun. You have a very engaging and natural teaching style and able to communicate very clearly to get great results in a very short space of time. I was very impressed with the standard of singing the team achieved thanks to your professional coaching. The session was a great energiser. It was a joy to work with you and I hope we can work together again in the future." Laverne Hughes